By the Wriggle Connect Ambassadors
Overview
Teaching with technology can increase students' understanding and engagement and save teachers hours of time. To help you to teach effectively with technology in your subject area, we've rounded up a full list of tools, chosen by teachers, with exemplars from their classrooms demonstrating how to get the full benefit from these tools for teaching and learning.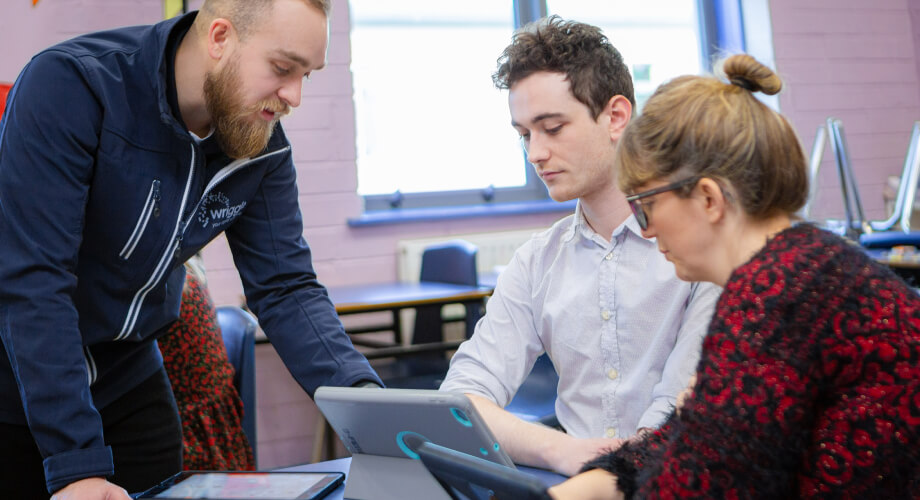 How to teach English with Technology
By Mark Delahunty
Reading, writing and building vocabulary and comprehension skills are key areas to develop in the English classroom. Teaching English with the right technology tools at the appropriate time can really help students' progress. Learn how to increase creativity and develop students' vocabulary with these practical examples from our teachers' classrooms.
Best apps to build vocabulary
Throughout my teaching career, I have used many brilliant apps to engage students and build their vocabulary. One such app that has been extremely useful in my English class is Quizlet. It is an excellent tool that brings gamification to the classroom, promoting student engagement and allowing teachers to easily assess student learning and vocabulary development.
In this example from my course "Using Digital Technologies in Vocabulary Development" I demonstrate how I use Quizlet to create study sets for my students, easily monitor their progress and transform my vocabulary lessons.
Throughout my teaching career, I have used many brilliant apps to engage students and build their vocabulary. One such app that has been extremely useful in my English class is Quizlet.
Tools for Creative Writing
By Eoghan O'Neill
Every year in my classes I have had students who struggled with creative writing but I have found that using these technology tools has made the writing process accessible to children of all abilities.
World Book Online and Book Creator are two tools I highly recommend to teachers to use. 'The read-aloud feature within World Book can really assist students who may struggle in the research or evidence gathering phase of the writing process and the ability to add audio files on Book Creator assists emergent writers'.
Not only that but both of these tools can be used throughout the writing process, from planning and drafting, to editing and publishing, simplifying and scaffolding the process for children who need some extra help.
In this exemplar from my course for primary schools entitled "Using Digital Technologies in the Writing Process" I focus on how to add images to a book in Book Creator which greatly assists reading comprehension.
The course "Using Digital Technologies in the Writing Process" will show how you can empower students to include text, images and audio in their published books and will explore ways in which you can make the writing process a collaborative endeavour.
How to teach with technology in Maths and Science
By Conor Maxwell
Best apps for step by step problem solving in the Maths Class
Problem solving is an important life skill to teach students and these Microsoft Learning apps support students by walking them step by step through the problem solving process whilst saving teachers hours of time!
I recently designed a teacher training course on using OneNote, Stream & Forms in the Maths classroom which demonstrates all of the apps and tools I use regularly in my Maths class which have completely transformed my teaching and my students' learning.
Some of the top apps I demonstrate are the Microsoft Math app which allows my students to get step-by-step solutions to their Maths problems to support their learning. I also show how I use Microsoft Forms in the Maths class which has saved me hours of time assessing students by using self-correcting quizzes. Combining this with the use of Stream means it is also easy to make all Maths lesson content fully accessible and understandable for students, both in the class and at home, using tutorial videos embedded in OneNote from Stream. All of these apps can then be integrate perfectly into Microsoft Teams Assignments which allows teachers to streamline the collection and correction of CBAs, automatically collating student grades.
In this exemplar for this course, I demonstrate how to create self-correcting quizzes in Forms which automatically grades the assessment quiz once students complete it.
Best science apps and how to use them
Knowing which apps to choose and how to use them can really bring your science class alive. As well as the Maths course, I also created a course on using iPad and Office 365 in the Science classroom showcasing how students can create videos to document their experimental techniques, use augmented reality to make their notes copies come alive, and begin to deepen their understanding of scientific concepts using interactive simulations.
In this video snippet from my course 'iPad and Office 365 in the Science Classroom', I demonstrate how to bring students experiment notes alive using the Halo AR app.
Documenting Science Experiments
Technology has the power to make the process of documenting learning engaging and interactive. One of the most important things I do with every science class is set up a Class Notebook for Science. This allows teacher and students to work through the content together, then the teacher can distribute the collective work to the class and students can complete the experimental write up based on their results.
In my course on 'Class Notebook for Science Class' I showcase how to set up a Class Notebook for the Science Class and I demonstrate ways of providing effective feedback to students and looks at how multimedia can be incorporated into OneNote Class Notebook pages for better representation and delivery of content.
In this exemplar, I demonstrate how to quickly add audio feedback for students on their experiments and review the entire document as you are dictating.
Teaching with technology in History and Geography
By Holly Murray
How to make education more accessible in the history and geography classroom
As a History and Geography teacher for many years, I have found that every class has students who need some extra support. Using iPad, Microsoft and Google TEL tools has made it much easier to make education more accessible for students in my classes.
I am passionate about assessibility and inclusion and the difference technology can make for students with SEN. In my courses on 'Digital Tools for teaching Geography and History' I demonstrate how I use tools such as the Immersive Reader in Microsoft, translation options for EAL students in both Google Workspace and Microsoft Office 365, and screen recording with Microsoft stream with captions to make the videos more accessible. I also created videos on using the new breakout room feature in Google Meet and the use of Wakelet and Google Jamboard for creating digital portfolios. These TEL tools promote inclusion and are very accessible and user friendly for the teacher and the students.
In this snippet from my course 'Digital Tools for teaching History', I demonstrate how to use The Plagiarism Checker in Google Workspace to ensure that students don't simply copy and paste an essay online and disguise it as their own
Teaching with technology in Home Economics
by Sineád Connolly
How to make Home Economics Easy with Digital Technology
Home Economics is a subject that can really be brought to life by using Digital Technology to document and assess student learning. I am a big fan of making and getting students to make videos of the process involved in cooking a recipe or planning a family budget, etc.
In my course on 'Using iPad in Home Economics', I showcase how to use Microsoft PowerPoint Live, Word online for collaboration, Sway and also iPad, Clips, Pages and Keynote to record videos of learning and create ePortfolios and interactive workbooks to store students' documented learning.
In this video snippet I demonstrate how to create interactive Digital Portfolios to log student learning and assess their work
Teaching with technology in PE
by Jimmy Kiernan
Best apps for PE to enhance student performance
As a PE teacher for many years, there are many brilliant apps I have used to enhance students' performance. In my course on Using Technology in Physical Education I demonstrate how I use them to help students analyse their performance.
In this course I give tutorials of the best apps I have found to effectively enhance teaching and learning in Physical Education including using the camera app to record performance and how to use performance analysis apps like Coach's Eye, BAM video delay and Hudl Technique. I also explore apps like iMovie, Clips and Adobe Spark which are useful recording and presenting of CBAs for Leaving Certificate Physical Education.
In this video snippet from the course, I show how to analyse a students' performance using Hudl technique.
Designing & Creating Apps and ePortfolios
Creating ePortfolios
Creating Digital ePortfolios is a brilliant way of getting students to organise and document their learning. In my course 'QQI Digital Portfolios', teachers I explore how to use digital portfolios across all QQI modules for organisation, assessment and grading and walk teachers through the initial steps of creating their journals using Keynote, to design, layout and inserting digital content. I then demonstrate how to share the ePortfolios with students for assessment before grading and how to upload the ePortfolios to their institutes online platform for QQI verification.
This course includes content mapped to existing QQI module and next steps for teachers looking to adapt them for their own subject specific content. The course also has specific steps covering integration in both Apple (Keynote and Schoolwork/iCloud) and Office (Powerpoint and OneDrive) environments.
In this video snippet from the course I explain how to set up a Digital ePortfolio. Featured video suggestion – intro video
App Prototyping in the Classroom
App Prototyping is a great way to build students critical thinking and creativity skills and this course on 'App Prototyping in Keynote' demonstrates how students can brainstorm and plan out their app design, create the app in Keynote and how to test and evaluate their App Prototype.
App Prototyping is a great intro activity for students who have an interest in creating their own apps and this course covers the key computer science skills needed for this activity such as problem solving, computational thinking and planning.
In this video snippet I show how to get started on planning your App Prototype.