By Miriam Walsh & Sean Mcmahon
Overview
School, commuting, sports, friends, family, homework, sleeping. It's not hard to empathize with the pressures that teenagers can experience on a daily basis.
As a parent or teacher, we can fall into the habit of brushing these pressures aside, claiming "we've all been there". But it does not take away from the fact that these pressures are forefront in a lot of teenagers' lives.
This joint article by Miriam Walsh and Sean McMahon will outline ways of supporting teenagers to become more organized with their schoolwork and personal commitments using tools found on the iPad and Microsoft.
Microsoft Tools by Sean McMahon
The Digital Divide
With many parents and guardians experiencing school without one-to-one devices, in some cases schools having only one designated computer room or none at all. There can be misconceptions on the effectiveness of these digital tools in supporting organisation.
While there may still be great benefits to using a paper diary to manage our routines, we should also try to leverage the fact that modern teenagers having access to devices and the internet majority of the time. Continue reading for a break down of my favourite Microsoft tools for organisation.
Microsoft Planner
Creating a plan of upcoming events and assignments can be beneficial in organising one's time but it can be made more beneficial when involving those who are working in partnership.
Using Microsoft Planner, teenagers can create "To do" lists of the essential upcoming tasks but can also create alternative lists. These can be populated with tasks that are upcoming but not required immediately, or a set of tasks to be completed in their down time.
None of this seems new but some of the most beneficial aspects are being able to include others in particular tasks. This allows a group of students to set a common goal, maybe as part of an ongoing project, set deadlines and communicate with one another.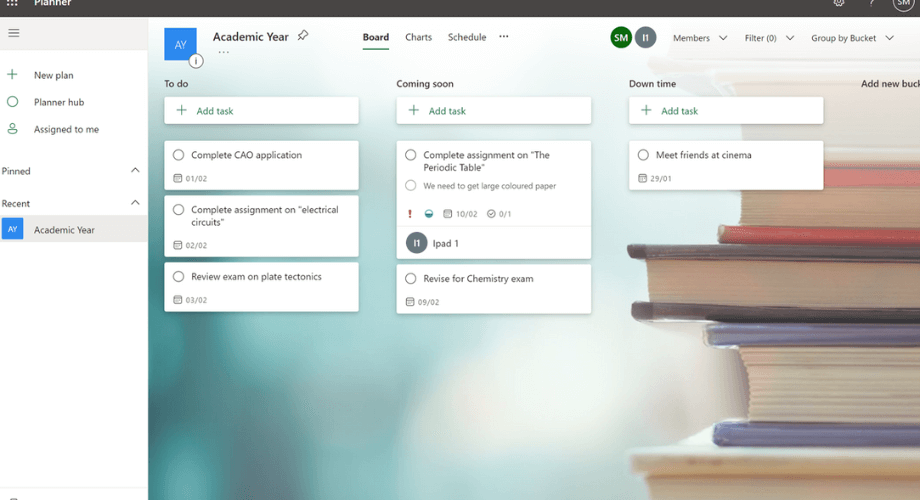 Tasks can be set in the "To do" column and checked off once completed. The planner itself can be shared with another Office 365 account holder.
Top Tip: This could be a way of checking in with your teenager's workload and supporting them.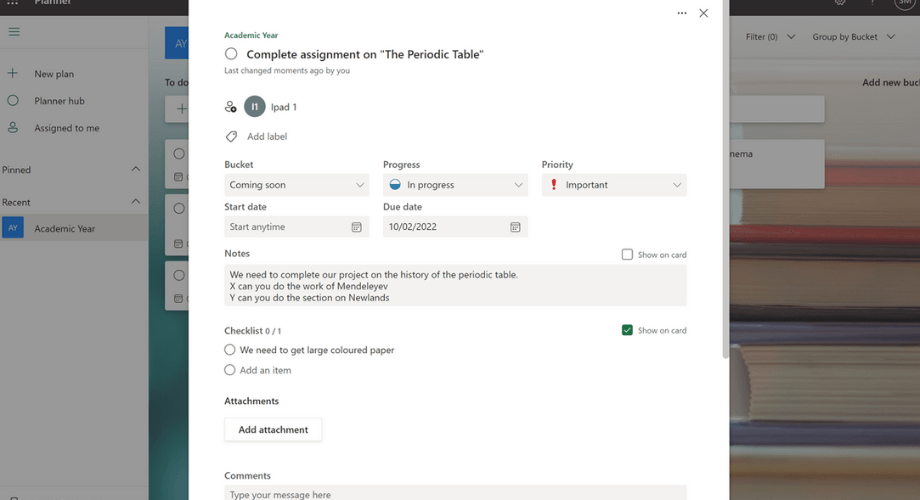 By clicking into a particular task, others can be invited to collaborate. This could be supportive for students working on projects, or perhaps students who are absent from school to stay in the loop.
This is all supported with a phone app, ensuring that the tasks are literally in their hands.
Microsoft Teams
It can be impossible to escape the world of social media, and the term has garnered some negative connotations over the past few years, some with good reason.
However, it's difficult to dispute that they are engaging. Part of this comes down to the ease of access afforded to the user. Therefore some applications used in working life and schools have a familiar social feel to them. This helps with integration and familiarity of the functions of these applications.
One powerful application to use for organisation is Microsoft Teams. Teams has the ability to link in with a multitude of existing Microsoft and third-party applications. Some of these include Microsoft Planner, Outlook Calendar, and OneNote.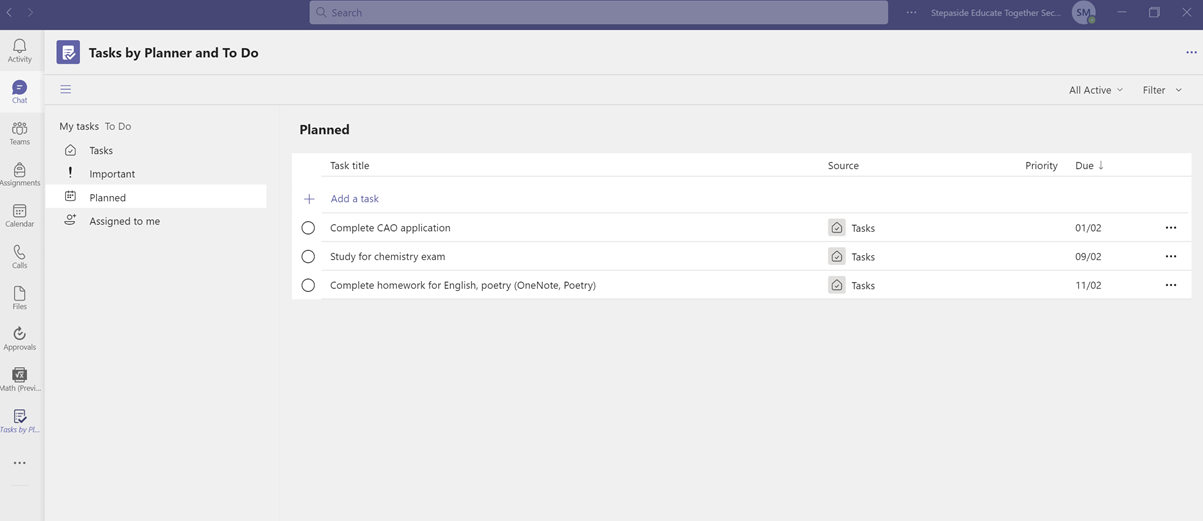 Using the calendar within Teams to set reminders and goals can be beneficial in terms of visibility.
The calendar will sync across the Microsoft account, meaning the reminders set in the calendar are visible across multiple applications. Meetings can also be scheduled to allow for collaboration.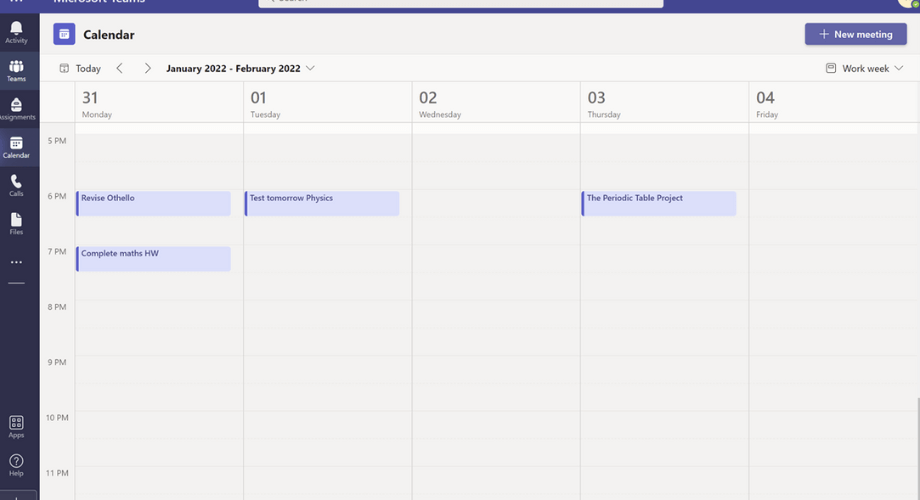 This doesn't all have to be the task of the student either, teachers can play a vital role in supporting students with their organisation skills, particularly in secondary school.
Students will have multiple classes and their workload will vary all the time. Teachers can use some of the features on Teams to "Announce" the homework on the Teams channel.
This will send notifications to each member of the team and also acts as a visual reminder. Alternatively, teachers can set the homework as an assignment, outlining all the details required, and students can submit all work through that assignment. Meaning there is less chance of misplacing work and feedback can be given more easily.
iPad Features by Miriam Walsh
App Folders
Having pages upon pages of apps on an iPad is no fun and it can be frustrating trying to find the one you need.
By creating app folders it is possible to ensure that all apps and Home Screen shortcuts can be organised by subject or app type.
I usually organise mine into categories such as Productivity (Pages, Keynote, Numbers), Create (iMovie, GarageBand, Clips, Sketches School) and also have a folder for my social or streaming apps to hide them away when trying to focus on work.
Photo Albums
Like app folders, photo albums can also be a good way of keeping organised. When opening up photos it is easy to select a photo, series of photos or video and add them to a personal or shared album.
This way it is easy to find the content when you need it in class. This is particularly useful when capturing content for CBAs. For example there may be an album relating to a field trip or science experiment and by organising the media it is possible to find those photos much quicker than scrolling through the camera roll.
Notes Tagging
Notes on iPad is a great place to start when taking quick notes, making checklists and setting reminders.
Notes tagging is a new feature that has been added to iPad OS 15 and means that it is possible to quickly tag notes with a hashtag just like on social media.
Tags such as #science #music #geography etc would be useful to to tag general subject references or it is also possible to be more specific and add tags to reflect various individual projects such as #minicompany #scienceCBA #frenchaural.
In addition to tagging topics it is possible to reference individuals with the @ symbol which is useful for collaborative projects.
Reminders App
Reminders app is a good way to keep track of projects and school work due.
It might be a long or short term deadline. When setting a reminder it is possible to set a date and a time. Similar to Notes tagging you can tag reminders. Making it super easy to search through your reminders.
Files and iCloud
When using iCloud on an iPad it is really important to keep those files organised into folders.
The same applies when other cloud storage apps are used. If your teenager's school is using Managed Apple IDs (usually set up by the school) there will be 200gb iCloud storage for all school projects.
By opening up the Files app there will be view options such as Recent, On My iPad, Shared or iCloud Drive.
One thing to note is that On My iPad refers to files that are stored on the device using up device storage. It is always a good idea to have a version of these files also stored in the cloud.
In iCloud there are specific folders for some apps which are used regularly such as Keynote, Playgrounds or iMovie. This means all these files are automatically organised.
For any other files it is possible to create new folders by clicking on the folder icon on the top right. That folder can then be selected going forward.
Wellbeing Tools
With a greater understanding and appreciation for personal wellbeing, it is important to emphasis that teenagers do need space to switch off. The effective use of these organisation tools needs to be balanced against the teenager's time spent on schoolwork, using a device, and connecting socially with others. Below are some useful wellbeing apps suitable for students.
Headspace
You can opt for the free trial of Headspace where you will have access to all content. If you don't want to fully commit, they have plenty of useful free resources on YouTube, Radio, and Headspace articles. You can even access Headspace's "Guide to Meditation" and "Guide to Sleep" series if you have a Netflix subscription!
Calm
Calm is a leading app for meditation for sleep and wellbeing. The app has been recommended by top psychologists, therapists, and mental health experts.
There are so many apps out there for student wellbeing, for a
comprehensive list, see here.
To conclude, it may seem the world is becoming a busier and somewhat smaller space, but it is also a more connected and informed space also.
By the engagement with technology, we can help our teenagers become more organised in their daily lives, preparing them for the working world in this 21st century society.
And who knows, we may gain some invaluable skills ourselves, this could be digital literacy skills or it may just be an opportunity to empathise with the current lives of our teenagers and connect with them on a common level.
Devices and training courses mentioned
By Miriam Walsh
Miriam Walsh is digital media and coding teacher in St. John's Central College and manages Apple Regional Training Centre Cork. Miriam is a certified Apple Professional Learning Specialist and an Apple Distinguished Educator with experience in the use of iPad across second level and further ed for productivity, coding, creativity and inclusion. .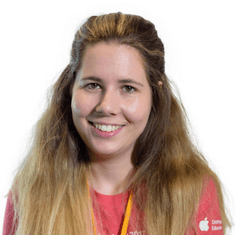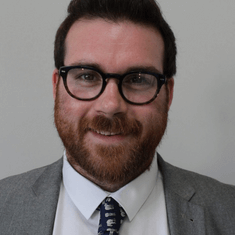 By Sean Mcmahon
Sean is an Assistant Principal and Science Co-ordinator. He has a passion for teaching his subjects to the highest standards. He has experience working in the UK and Ireland and has held the positions of Head of Chemistry and Vocational Science Coordinator. Sean has successfully completed the nomination process to become a Microsoft Innovative Educator Expert (#MIEExpert), upon the completion of continuous professional development courses designed by Microsoft themselves. Sean has been leading the Digital Learning Committee, looking at ways to incorporate technology more effectively into the school community.