Differentiation is the classroom practice that looks eyeball to eyeball with the reality that kids differ, and the most effective teachers do whatever it takes to hook the whole range of kids on learning

– Carol Ann Tomlinson
Overview
Differentiation is something that is required in every classroom, regardless of class level or school type. Teachers are required to differentiate their lessons to suit the needs of the learners in front of them – this can involve differentiating to make the content more challenging or differentiating to make the content more accessible. In this blog post, I will explain some ways in which digital technologies can assist in differentiating lesson content, and how it can be a time saver for teachers.
Google Workspace for Education
Google Workspace for Education (formally G-Suite) is a very popular online learning platform that is used in many Irish schools. Goggle Workspace offers a number of different ways for teachers to easily differentiate lesson content. Work for students can be modified and differentiated through both Google Classroom and Google Forms. There are also a number of Chrome extensions that can be used in Google Docs to make content more accessible for all learners.
Differentiating with Google Classroom
Within Google Classroom itself, the teacher has the option to assign work to selected members of the class – this means that different groups within the class can be completing tasks that are commensurate with their ability levels.
It is also an effective way of addressing different abilities in a class without drawing attention to a pupil who may be struggling.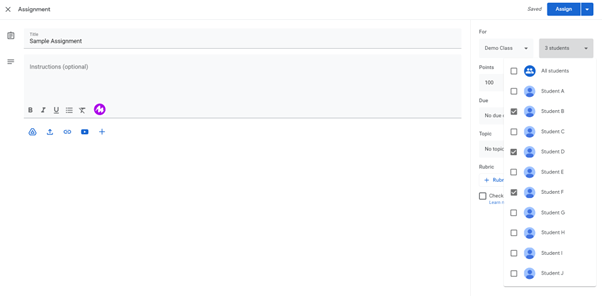 Differentiating within Google Forms
Google Forms is a very popular online assessment and survey tool – most schools will be utilising either Google Forms or Microsoft Forms for gathering assessment data on their students. However, it is possible to create a form that does not involve every pupil answering the same group of questions. 'Branching' is a method of differentiation that can be used within Google Forms.
This essentially means that a students answer to one question will dictate what question they answer next, e.g. if a student gets an answer incorrect, they can be directed to an easier question, and if a student gets an answer correct they can be directed to a more challenging question.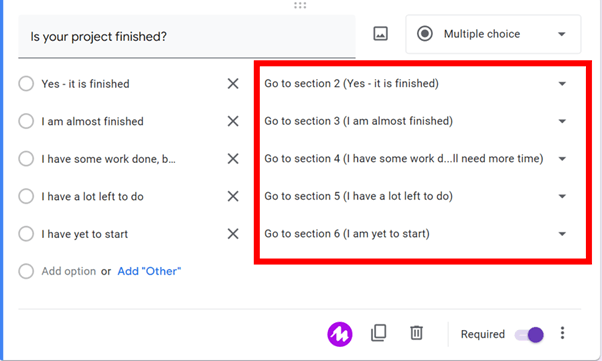 Accessibility within Google Docs
There is always scope for us to learn about new ways in which technology can enhance the learning experience in the classroom.
At the recent event 'ElevatED Learning' hosted by Wriggle, my fellow Wriggle Connect Ambassador Holly Murray showcased a fantastic Chrome extension that students can use to make content more accessible. The 'Helperbird' extension is revolutionary for learners with literacy difficulties or EAL students.
This extension contains the 'Immersive Reader' system that is also available on the Microsoft platform. Highlighting a piece of text will open it in Immersive Reader and will read the piece of text aloud to the students.
The 'Immersive Reader' extension also allows pupils to translate words or the entire text to their native language – if simply choosing a word, it will offer the translation in another language and an image to support pupil's understanding. For schools who are welcoming students from the Ukraine the 'Helperbird' extension is simply a must-have.
The image below highlights just how useful this is as a differentiation and accessibility tool.

To conclude, this blog post has gone through a number of simple ways in which digital technologies can enhance the process of differentiation in your classroom. The beauty of using digital technologies for this purpose is how discrete the differentiation is – everyone is using the same device and the same platform, yet they can be assigned modified tasks.
The Wriggle Connect platform offers a myriad of resources for you to upskill in relation to this. I have authored a short bitesize course on 'Differentiation with Google Tools' – where you will find step-by-step videos of how to use the content covered in this blog post.
In differentiation, not in uniformity lies the path of progress

– Louis Brandeis