Overview
As a co-educational school with over 1000 pupils in Clane, Co Kildare, Scoil Mhuire decided to set up Office 365 as their online school platform to enhance communication, collaboration and the teaching and learning experience. ICT Coordinator, Andrew Herring, explains how important training and support has been in getting the full benefits from the platform:
"We wanted to enhance teaching and learning and increase collaboration between staff and students but we wanted to make sure the whole school was comfortable with using the technology first. Wriggle provided training for our Digital Leaders in our chosen teaching and learning app, OneNote, and those Leaders then held CPD training sessions for other teachers. Over the past three years, Wriggle have worked with us to support our Office 365, including setting up our account for academic use, setting up secure user accounts for staff and students and supplying Microsoft Surface Pro devices for teachers.
When school closures happened, as all staff were familiar with the use of Teams for departmental collaboration, the decision was taken to adopt this platform for remote teaching and learning. To assist with this development, Wriggle's Office365 team advised us on the best configuration of Teams and other Office365 services to enable remote learning and they set up policies and safeguards to ensure that students could continue learning in a secure environment. As a school, we conducted online and in-house training to ensure staff were comfortable with using Teams. Staff also engaged with Wriggle's free webinars to upskill on Office 365 and we responded to the needs of staff and students on an ongoing basis."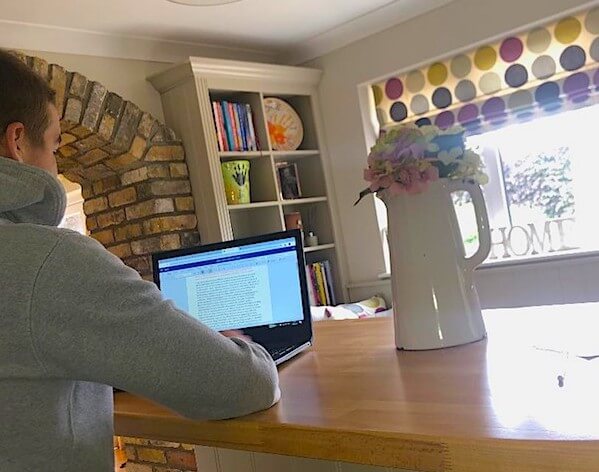 How we adapted the way we teach to keep our students engaged
In the shift to home learning, teachers' familiarity with Office 365 was a huge benefit, and they used their digital skills and Office 365 tools to develop new ways to teach their students effectively with a large emphasis on consistent, face-to-face communication as teachers, Andy, tells us:
"Students and staff were already familiar with the Office 365 platform, and so the transition to remote teaching and learning was easier for us. In order to continue teaching successfully, we had to change our practice in terms of how we communicated with students and assessed their learning. We felt it was important to maintain regular face-to-face communication with staff and students over the period of school closures so we conducted these meetings via Teams. Teams have provided a more social aspect to remote teaching and learning as there is interaction via voice and video between the teacher and the class.
We have also developed more resources for students to access at any time, as well as uploading files with key lesson information to OneNote and using Forms for tests and quizzes along with the rubrics in Teams to assess students' work. This proved really powerful for student engagement."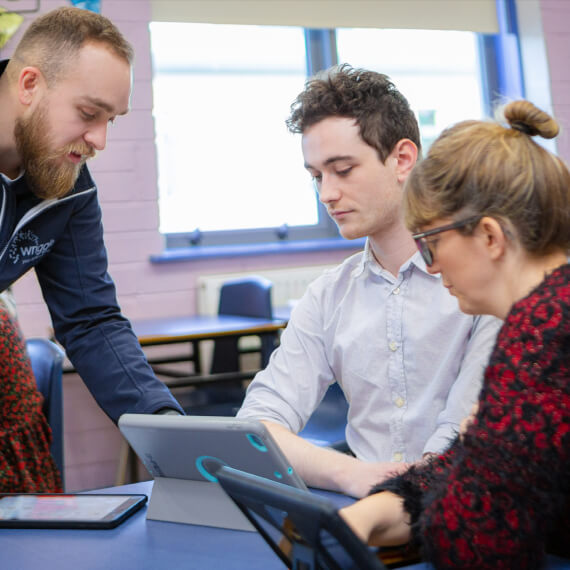 Using Office 365 gave our teachers back more time
With additional demands on teachers' time these days, the ease of use and seamless interaction between all Office 365 applications is another feature the school have found hugely beneficial in reducing teacher workload, especially while working from home, as this teacher tells us:
"The fact that the whole platform is, generally, seamless in the way the various applications interact takes a lot of additional work away. Teams has been the core application we used and the ability to work with word, OneNote, excel etc within Teams is of huge benefit. We asked students to submit work as a word document (this could include an image of a copy page/s) and correcting work using the Surface Pen within a word document afterwards was straight forward and hassle free.
Setting/scheduling assignments was easy as was starting online classes. Submitting work online using Teams removes any confusion about whether homework or assignments were set, even if students are absent. It also allows for the monitoring of student work and keeps it all in one place; no pile of copies! We found that it was easier to keep track of student engagement and that work submission improved overall."
The unexpected benefits of Remote Learning
Feedback from the school community on the last few months of the year has been positive, with high staff and student engagement in home teaching and learning Andrew tells us:
"As we responded quickly to the challenges of remote teaching and learning by getting set up and running with Teams, we did not lose continuity of learning. Students still had the social aspect of the classroom dynamic which was of huge benefit to many and the student engagement rate averaged 82%! The tracking of students' engagement and work has also improved from a whole school and individual teacher's perspective."
Students are also keen to praise the use of Teams and their teachers' efforts the past few months:
"Our school has done a great job at helping me keep up to date with my learning. Online classes on Teams has allowed me to keep in contact with my teachers and stay on top of my work. All the files my teachers posted in OneNote containing notes and PowerPoints have also given me lots of additional information that has helped my learning."
Having really stepped up to the challenge and made the most of their digital skills, the school now feel they are in a good position to facilitate home or blended learning, says Andrew :
"The way in which staff have adapted to the challenge of remote learning has to be considered a massive success and the feedback from staff, students and parents backs this up. There has been a marked improvement in communication, development of digital skills and collaboration across the board has increased.
Thanks to the set up and support of Office 365 by Wriggle and the thorough training we received, we now feel we have the tools to engage with Blended Learning if that is required in the future.
Through the unexpected position we found ourselves in, we have built confidence and skillsets in our teachers that means we are ready for whatever the future holds. We have also developed new teaching methodologies and ways to engage our students that will benefit us all into the future."