Overview
The Irish government have allocated additional funding to every school in Ireland to invest in their ICT infrastructure. Have you thought about how you are going to invest this money in your school? 
Minister Norma Foley has stated that:
All of our children and young people must be prepared to learn, work and live in a digital world. This scheme… will provide for advances in the two important areas of enhanced digital infrastructure for schools and addressing learners at risk of educational disadvantage through the digital divide by providing funding to schools.
With many demands on school time and restricted budgets, Wriggle find that many schools are understandably overwhelmed with how to spend their money or end up spending ICT Grant funding on short-term fixes without planning or thinking long-term about how to cleverly invest school's limited funds to get benefits from them well into the future.
We asked some educational digital leaders for tips on how schools can wisely invest their ICT grant money.
Frank O Tormaigh, the assistant principal of Gaelscoil Eiscir Riada, explains how investing in good technology is key.
"Don't skimp on technology. In my experience, if you buy cheap, then you end up replacing it a lot sooner. It's worth making a big investment which will last a lot longer."
While Jean Ward, the assistant principal of Malahide Community School, believes in finding a sustainable way to finance their iPads.
"We needed to find a sustainable way to finance our iPads, and availing of Wriggle's ACCESS plan means that we pay a monthly fee, enabling us to keep the iPads current without the huge financial outlay of a purchase scheme. When we traded in our old devices, we got credit back to put towards our new iPads. The process was easy, and it definitely made it much more affordable." 
Amanda Joliffe, a DreamSpace lead, is adamant about doing your research when using your grant.
"Do your research. Make sure to weigh up all of your options. Visit schools and see how technology works for them. For example, Wriggle organise educational events and co-hosts field trips with strong digital schools for school leaders to attend. This gives educators an opportunity to see how technology can be used to its fullest potential in the classroom. More importantly, it allows teachers to get advice from digital leaders themselves."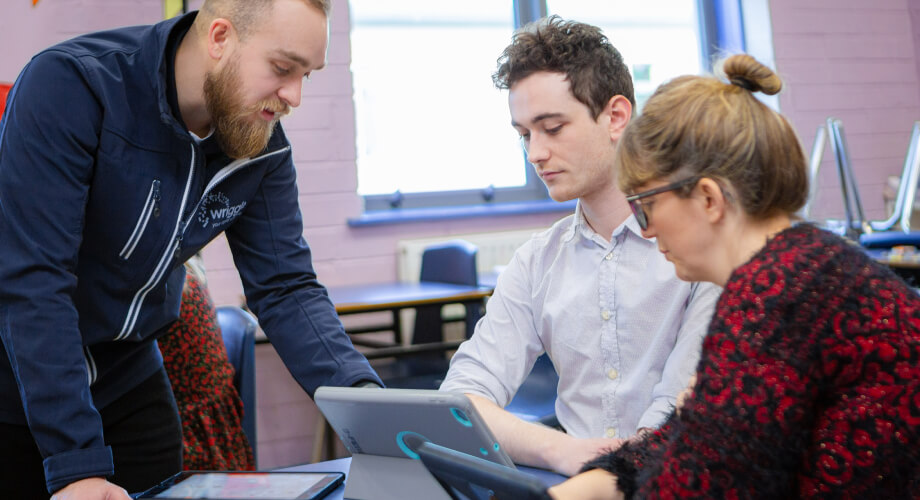 Linda McCusker, the deputy principal of St.Vincent's Secondary School in Dundalk, believes developing relationships and seeking advice from suppliers of technology is the best avenue to take.
"In my opinion, the most important thing is to have a vision of what you want to achieve. Then decide how you are going to get there – decide on logical, manageable steps to get to your goal. For example, infrastructure such as WiFi is the backbone of the implementation and introduction of any digital technology in the school. Spend time researching which device will suit your students, staff and your school. Decide what you want students and/or teachers to be able to achieve with the device. Meet with, develop relationships and seek advice from the suppliers of the technology as they have been working with many schools similar to yours, so can offer great advice." 
Training is one of the most important investments that you can give your school.
Sean Glynn, Chief Learning Officer at Wriggle, believes that training is the most important investment you can make.
"All investments in technology should match your school's goals that are set out in your Digital Strategy plan. In my opinion, training is one of the most important investments that you can give to your school. It gives your teachers the confidence to use technology to reach all learners to achieve their potential. There are many training courses and resources available on demand for teachers to assist them with using digital tools to enhance literacy, numeracy, digital wellbeing and coding, create CBAs and Digital Portfolios and more. For example, Wriggle's a team of over 40 Irish teachers has created 1000s of 2-minute tutorials on using a wide range of digital tools for learning across all subject areas, which can be accessed 24/7 as needed on our Wriggle Connect Teacher training platform." 
At Wriggle, we work with a large variety of schools, from urban to rural, from large to one-teacher schools. We have helped schools to establish their vision for technology use in their school digital learning plan and have shown them how to wisely spend their ICT grant money. We offer educational discounts on all the latest devices for learning, many of which are available from us via the Department of Education and HEAnet procurement framework. Contact us today to learn more.