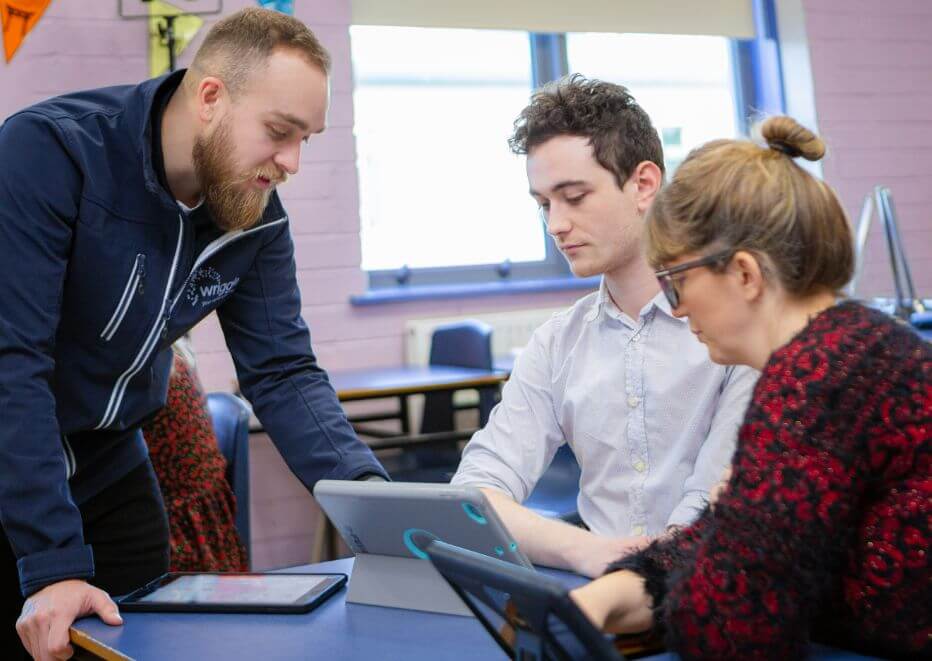 Supporting Learners Through Technology
There are amazing tools built into your child's device to support their learning, but handing a student an unmanaged device means that they can also access gaming, social media apps and other distracting, inappropriate content. That is why Wriggle's technology team builds management software into your child's device and ensures that it is safely managed with school apps downloaded and maintained for 3 years.
Parents and students cannot be expected to know how to use all the school's digital learning tools straight away and will have questions or need support and training to ensure that you are all confident in using your child's device safely to its full learning potential. That is why all Wriggle 1:1 school technology bundles come with 3 years of phone and email support from our technical and customer service team.
Take a look at the full list of supports available to you as part of your child's school technology bundle below.
Full Device Set-Up and Security for *3 Years
To ensure that your child's device is secured for educational use only, our technology team at Wriggle put your child's device through a 77-step process to make sure that:
The device is set up with a device management profile so that it can only be used for educational purposes
The device is configured correctly for school and overseen by our dedicated Apple, Microsoft and Google engineers
School specific device restrictions are applied to the device to adhere to school policy
Your device is set up with all the apps you need for school preloaded to your device
Device safety management is in place for *3 years
New school apps and updates are automatically pushed to your device for a full *3 years
Full Technical Phone and Email Support for *3 Years
Technical Queries and issues arise, which is why Wriggle's team offer parents a full *3 years of phone and email support for all app and technical issues, including:
Support for any technical issues with the device
App support to ensure optimal performance of educational apps
Device unlocking in cases where devices become Locked or 'Disabled'
Device reconfiguration to school specifications
3rd party account support, including device management applications such as ASM, InTune and JAMf Classroom
Warranty repairs and support
Logistics repairs support
Ongoing school app pushes and updates over *3 years
36-month software cover
36-month Mobile Device Management licence and platform maintenance
*Though many schools chose to have their student devices managed under Wriggle's service and support package for 3 years, some schools chose to have student devices managed for a longer period of time. Please refer to your Wriggle Parents Information Pack for the duration of your service and support package.
On-Demand Training in Technology for Parents and Students
To ensure that your child gets the full benefits from their device for learning and that you are up to speed with all the digital tools they are using every day in school, all 1st-year parents and students will have full on-demand access to a library of 100s of 2-minute tutorials created by Wriggle's expert team of teachers and digital safety experts on our training platform, Wriggle Connect Family, at no extra charge, as part of your child's Wriggle school technology bundle.
These easy 2-minute tutorials cover:
Device setup and security
eBook guides
Internet Safety Filtering
Applying Parental Restrictions
Checking Screentime
Wellbeing and resilience skills
Uploading Homework Online
Digital Study Skills
Accessibility tools for learning
Tutorials on all your school learning apps
Students are awarded certificates on completion of all training courses, and all training tutorials are regularly updated to ensure they are up to date and relevant.
Want To Learn More About How Technology Can Support Your Student in School or College?
We have curated and published thousands of support articles, videos, webinars and guides in collaboration with our educational partners which can support you and your student throughout your digital learning journey.