By the Wriggle Connect Ambassadors
Overview
"There was a great comfort knowing that two full year groups in the school had excellent devices and that teachers and students were extremely competent in using them", Ingrid Fallon, Principal, Holy Family Community School.
How technology helps in schools
For Holy Family Community School, a school of almost 1000 students in Rathcoole, Dublin, the decision to move towards a 1:1 iPad programme where each student has a device was an obvious one, motivated by a desire to empower all learners with the skills and tools they would need to thrive in school and beyond. The decision on which device to choose was also straightforward, as principal Ingrid Fallon explains:
"I had taught for many years using iPad", explains Ingrid, "so when Senior Management was researching which device to go with, I was able to give first-hand experience of how enriching an educational tool the iPad could be. It is incredibly fast and user-friendly and has an amazing suite of apps already on the device that really encourage creativity and self-directed learning. This knowledge, together with the support package that Wriggle could provide, meant we were confident that the iPad was the right device for us."
Key steps in integrating a successful Digital Learning Plan Ingrid knew that planning exactly how to integrate the iPad successfully into teaching and learning was just as important as choosing the device:
"Having a clear plan which we communicated to our entire school community was key. We held Parents Information Evenings and provided in-house training to teachers and students delivered by our Digital Learning Team who had been trained by Wriggle."
From past experience in her previous school, Ingrid also knew that support and external training were vital components in successfully integrating a 1:1 iPad model into the school:
"Schools do not have dedicated ICT departments, so the practical support that Wriggle gives to both staff and parents is invaluable. It gives us great peace of mind to know our iPad programme is safe, GDPR compliant and increasing engagement with our students. Wriggle's service has always been professional and supportive. They show a great understanding of how schools work and the challenges they may face when embarking on this journey. They even sourced a finance package for parents as they recognised that cost could be a barrier for some families."
Easily Transforming and Enhancing the Teaching and Learning Experience
Once introduced, the benefits of moving to a 1:1 iPad model quickly became apparent, explains Ingrid: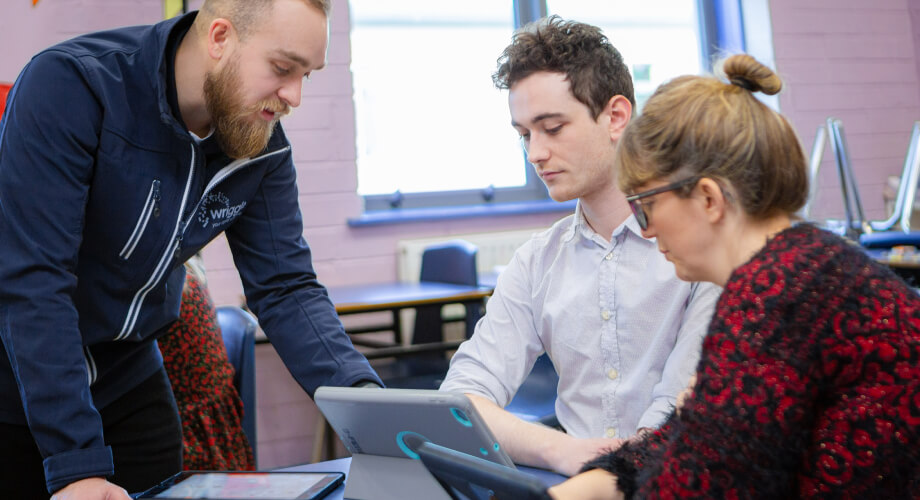 "Classroom Based Assessments require students to deliver a presentation, and having access to the iPad allows students to be very creative when doing this. Language teachers can give oral work for homework as students can now record and submit their work digitally. ePortfolios are a fantastic way to record students' work without the risk of losing copybooks or folders.
Teachers can record their lessons so a student can watch a lesson as many times as they need to. The iPad also enhances differentiation as there are apps that support students with additional needs and make lessons more accessible, including reading aloud in different languages and transcribing speech to text."
With students and teachers having compatible devices, learning has been interrupted minimally over the past year as they have all the necessary tools to continue
When schools closed in March 2020, the benefits of the schools' iPad 1:1 programme increased ten-fold:
"With students and teachers having compatible devices, learning has been interrupted minimally over the past year as they have all the necessary tools to continue", declares science and biology teacher Michael Fiorentini.
"Student engagement levels have been excellent during remote learning due to the ability to run live lessons that the iPads provide. The compatibility of the iPad with Office 365 means I can easily use Breakout rooms on Teams calls on Mac which has really increased student engagement as students got to work in small groups with their peers. This has also been fantastic for their wellbeing."
The benefits of the iPad were equally apparent in the socially distant classroom says, Michael:
"The ability to observe student work in real-time was excellent. The Apple Classroom App also made it extremely easy to keep track of student engagement during lessons, and OneNote has been an excellent tool for receiving student work, organising class materials, and providing feedback."
Students are also keen to praise the use of iPad and their teachers' support in helping them learn throughout the pandemic:
"Using my iPad has impacted my learning from home and in the socially distant classroom in a very positive way", explains student Nate O Neill
"Video calls via Teams on iPad have really helped me to understand lessons and to answer any questions I have about the topic. Speaking with my teachers and friends has also really helped my mental health. And even though we couldn't go on educational visits, we could still go on a virtual tour of a solar panel field using the iPads when learning about renewable energy."
Integrating lessons and developing skills learned in Lockdown
"Whilst the past year has been challenging and unpredictable, the level of engagement in learning from everyone has been excellent. We are confident that with our iPad programme, training and support from Wriggle, we will continue to grow and will develop our skills and confidence in the future. The support we receive from Wriggle is invaluable in helping us to develop our strategy going forward."