Overview
Keeping students fully engaged in a lesson can be quite difficult especially on a Friday afternoon after a busy week or the last day of term. We as teachers all talk about the severe exhaustion at the end of a term and I think it is no different for our students. They too get tired of reading and writing etc. Gamifying lessons to keep the students engaged in the lesson content is a vital component of my lesson planning. My favourite tools to use in my classroom include Blooket, Kahoot, Edpuzzle, Quizlet, Wordwall, Minecraft. Putting the keywords, they need from every chapter into a game to make learning fun and enjoyable is a priority for me as a teacher and the students absolutely love it. The noise level in the room increases significantly and the competitiveness is on another level when I 'gamify' my lessons.
Students need access to a device for these games. Students are allowed the use of their phones with the teacher's permission in my school, and I also book a Chromebook trolley as a backup for the students who do not have a phone or who have no data available. In my school Chromebooks must be booked via the Google Calendar in advance so when I am planning to use a digital device, I always book the Chromebooks ahead of time.
Wordwall:
Wordwall is a new digital game/learning resource for me this year. Some of my colleagues were using it and I decided to give it a try. It is a fantastic teaching resource. Wordwall has basic and paid features depending on your budget and has school and individual price plans. The free version allows you to create five resources but for a little over five euro per month you can get unlimited access. I pay for this myself as it is a really beneficial tool for my students. Wordwall includes quizzes, match up games, random wheel games, missing words, gameshow quiz etc. What I love about this digital resource is you can use the one resource in so many ways. The data then tells you how fast the student has answered and how many correct and incorrect answers etc. This gives the teacher a great insight into how well the topic has been covered. See data below from Word Wall revision on a topic.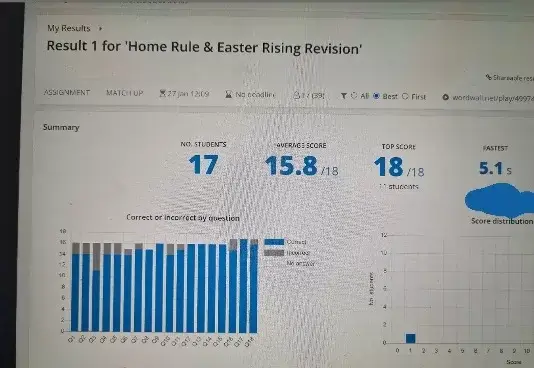 Quizlet:
Another favourite of mine is Quizlet. Quizlet is an assessment tool, but it is fun and engaging and my students love it. Again, you have the free version and then you have Quizlet Plus for 31.99 per year. The Quizlet live option again allows the teacher to gamify the lesson and yet monitor students' progress. The Live game allows for team games or individual games. Quizlet allows you to personalise your content by adding audio and images and allows for differentiation with multiple choice questions. Students love monitoring their streaks and again allows for a little competitiveness. Quizlet links very well with Google Classroom to set up your class in Quizlet. I also love the self-study activities that Quizlet offers also with flash cards. I often set flash cards for homework to get the students to revise. Again, this avoids carrying home heavy books as they have all the resources available on Google Classroom.
Blooket and Kahoot:
Kahoot was the original gaming quiz in all classrooms going back a few years now. Kahoot makes lessons more interactive and fun. Again, it has a free version and a few different paid options which in my opinion can be quite expensive. I use the free basic version. Kahoot also allows you to set the quizzes for homework. I used to be under the impression that Kahoot was only really for first and second years but some of my Junior and Senior cycle exam classes still like a Kahoot for revision again a break from always reading and writing etc.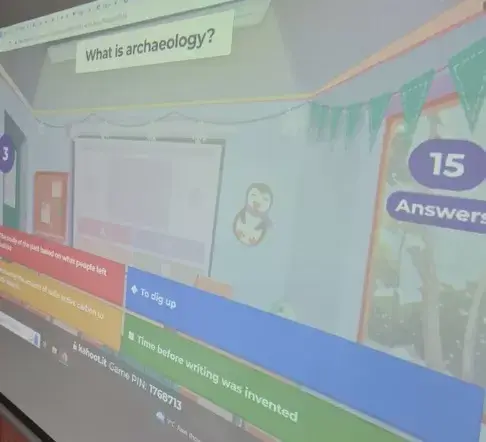 I tend to use Blooket more this year than Kahoot. My students absolutely LOVE Blooket.
Again, I only use the free version of Blooket and it is great. Blooket offers many different types of games from Gold Quest (My student's favourite mode) where you win gold coins and steal coins upon obtaining the correct answer. Blooket also includes modes such as Crypto Hack, Tower defence, Battle Royale etc. Blooket allows you to search topics from other teachers for ready-made games to save time which is an excellent feature. My students go crazy when we play this. Blooket is a top favourite to play on the last day of term or at the end of a chapter for revision. My students have so much fun playing this they forget they are learning as well. My games all include keywords and dates, so they need to know their topic very well to succeed in the game. I will often have a bar of chocolate or a small prize for the winners. My absolute favourite aspect of Blooket is that you can import from Quizlet. This saves teachers so much time when they can reuse the same resource in a different game over and over.
Edpuzzle is an old favourite of mine and especially now with live mode. Not a game as such but the live mode helps to promote engagement with the videoclip which is excellent for visual learners in your classroom. Teachers must assign the video to their class first and click live mode and share their screen on the projector or TV. Edpuzzle then will track their progress and responses just like for any other assignment. I use Edpuzzle for homework a lot and it allows me to click on the prevent skipping option which means I can see what students have played the full video. I love that I can build in multiple choice or open-ended questions for differentiation into the videos they are watching. Edpuzzle also connects very well with Google Classroom, Microsoft Teams, Moodle, or Blackboard. I again use the free version of Edpuzzle and the only downside to this is that you must keep deleting old resources to use new ones.
Using Minecraft in my lessons was an area I explored during lockdown with my first-year geography class. What we did was build volcanoes in Minecraft to study the keywords and the positive and negative effects etc. Students showed so much creativity throughout this process. This year this got me thinking and I applied for a JCSP grant to purchase an Xbox and Minecraft for my classroom. I am currently engaging in my own CPD on the use of Minecraft in education and will be using this in my classroom from September for history and geography.