By Róisín Johnston and Kate Murray
Overview
For World Book Day, primary school principal Kate Murray and Primary school teacher Roisin Johnston share their top tech tools for classroom use.
Top Tips for Reading Assessment By Kate Murray
Under the School Self Evaluation process, we have consistently looked at methods of improving literacy standards in our school for all learners using the six-step process of identifying our focus, gathering evidence, analysing and making judgments, writing and sharing our School Improvement Plan, taking action and monitoring and evaluating impacts.
Reading Progress through Microsoft (Kate Murray)
In November 2021, we began using Reading Progress through Microsoft Teams. Reading Progress allows us to set reading assignments each week for our students that they can record and upload in their own time and that is then automatically graded and reviewed through AI magic. There is an inbuilt ReadWorks library with levelled passages or I can choose to upload my own reading material for instruction. Students record their reading and are prompted to use Reading Coach on the words they have difficulty with. The automatic report gives the student their correct words per minute percentage accuracy rate and highlights mispronunciations, omissions, insertions, repetitions, and self-corrections. I can also set the number of times a student can attempt a passage or I can leave it open to allow them to attempt as many times as needed.
The students' individual progress reports can be analysed over time to monitor their progress and I can also see class trends and areas that require renewed focus. Not only that but I can set challenge assignments on words of focus for both individual students or the whole class group. This differentiated approach to class reading has been vital in my class's average accuracy increasing from 82% to 94% this year and average words per minute increasing from 81 words per minute in September to 144 words per minute currently.
An update has been added to Reading Progress in the last year. This is called Reading Coach. Once students complete Reading Progress they get automatic feedback and individualised instruction through Reading Coach. This picks out the words the students have had the most difficulty with in terms of pronunciation and fluency. The students can then click on the word, listen to the correct pronunciation, and practise these words.
In February 2023 Reading Coach was added to Immersive Reader. This will mean that students can practise their reading in OneNote using any text that is uploaded to Class Notebook. Student reading is then analysed and a Reading Report is generated giving an accuracy score, correct words per minute, and words to practice. This fantastic tool allows for student agency where they can choose their own reading to practise and improve.
Two exciting upcoming updates to Reading Couch are imminent. One will identify prosody patterns automatically such as expression, and monotone, and analyse when a child pauses or misses a punctuation cue such as a full stop or comma. The second will analyse phonemes in words and map them to phonics rules in Insights. This will be ground-breaking for teachers at the infant level as they will quickly see the speech sounds that a student needs to work on with an individualised report and they can also access a whole class report that will analyse common errors, streamlining both individualised and whole class instruction.
Using Book Creator in the Classroom (Kate Murray)
Book Creator is our school's go-to tool for the creation of colourful, interactive books across the school. Each year we participate in Galway Education and Support Centre's Write a Book project. Over the past three years, we have made our books on Book Creator. To simplify the editing process our students mind map their story ideas on Microsoft OneNote in Office 365. Then they type their first draft on OneNote and I correct using digital inking. Their second draft is again edited on OneNote. The students can then easily then transfer their writing to Book Creator.
Book Creator is a very easy setup for any teacher. I set up a library for the students and share an invite code and link on OneNote. The students then log in using their Office 365 login. Once in, our students can pick from template offerings such as book sizes, comic layouts, and ready-to-go templates. This gives great flexibility to each student and they can choose from their own photos or photos online under the Pixabay free-to-use and modify licence. This is a perfect opportunity to teach about digital citizenship and creative commons.
Often my students will draw their own images digitally on OneNote or on Paint 3D and upload their own creations. The ability to record themselves reading the books is often a popular option. Once each student's work has been edited and they are happy with their creations, I can then make the library public. Again there are options here to make it open to a public search or to limit it to those with a link. Of course, having a physical book is always a wonderful option for students and the digital books they create are very easily printed out, too.
The Tech Tools You Can't Get Enough Of By Róisín Johnston
Thursday, 2nd of March is World Book Day. School's all over Ireland will celebrate World Book Day with their students with dress up days, book swaps, visits to their local library and paired reading activities. In this blog post we will explore some of the top tech tools that you can use with your students to celebrate World Book Day in your classroom, edngage, connect and challenge your students for World Book Day.
The Pages App as a Tool to Support Reading (Róisín Johnston)
The Pages app is one of my favourite apps to use to teach my students literacy skills. Pages come with several pre-loaded templates, which are a great way of scaffolding learning and literacy skills. Pages is a very flexible creative environment that supports your students to become more confident and competent content creators by allowing them to customise fonts, personalise text styles and easily add graphics, voice recordings and videos to their work.
Some of my favourite ways to use Pages to help improve my students literacy skills during World Book Day are;
Create a digital book whether it's a Junior Infant's retelling of the story of Goldilocks and the Three Bears with pictures drawn by the students and voice recordings of the story. To Sixth Class rewriting their favourite childhood fairytale with digital drawings, text and animations. Students can create a sequel to their favourite books. Older students can then present their books to younger classes in a shared reading activity. This gives them an audience and a purpose for their writing. Pages has a wide variety of book templated preloaded on the app ready to use.
Students can use the classic newsletter template to create a front page of a newspaper using a key event from a story for example an important event from a historical novel set during World War II or The 1916 Rising in Dublin.
Create an advertisement or a poster for a product or service that would have existed in the time of the story.
Give your students the creative task of redesigning a cover of a well-known book or story. Use the Page app and the book template to create a new cover. Students can even create their own layout for their design.
Use the new invitations templates to design a virtual invitation to Alice in Wonderland's the Mad Tea party or a similar story.
Interactive Classes with Keynote (Róisín Johnston)
Interactive things you can do with Keynote include having your students create a guess the book emoji challenge for children in other classes, produce a quiz in keynote to support your understanding of grammar, a novel or new vocabulary, or create an animated GIF advertising your favourite book.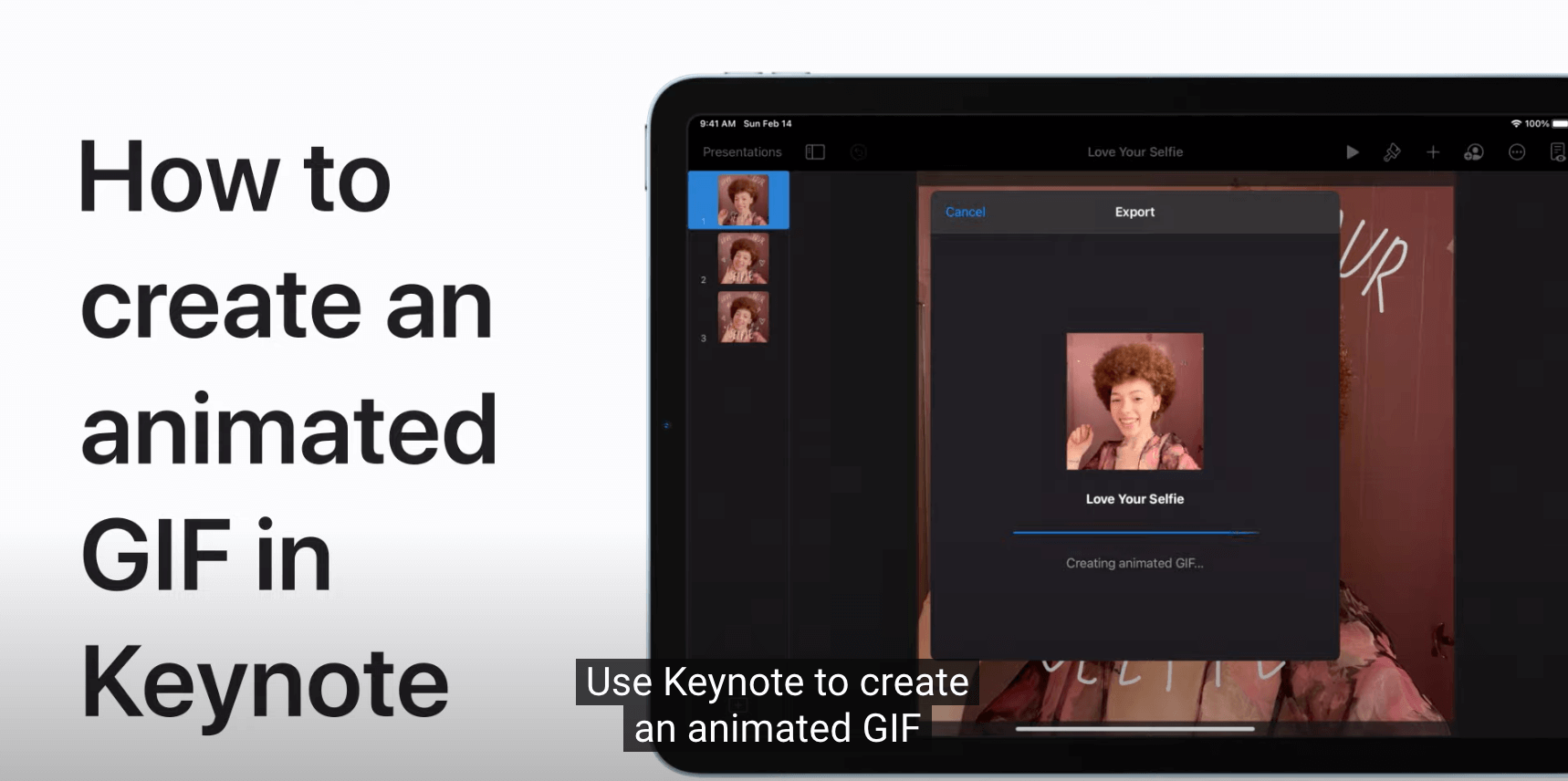 Game-based Learning with Kahoot (Róisín Johnston)
Kahoot is an excellent game based learning platform that allows students and teachers to create, share and play learning games or trivia quizzes. For world book day students can create a Kahoot quiz on their favourite book or series of books, a general knowledge quiz about famous authors. You could even have your students create a quiz on the key features of narrative writing or a genre of your choice.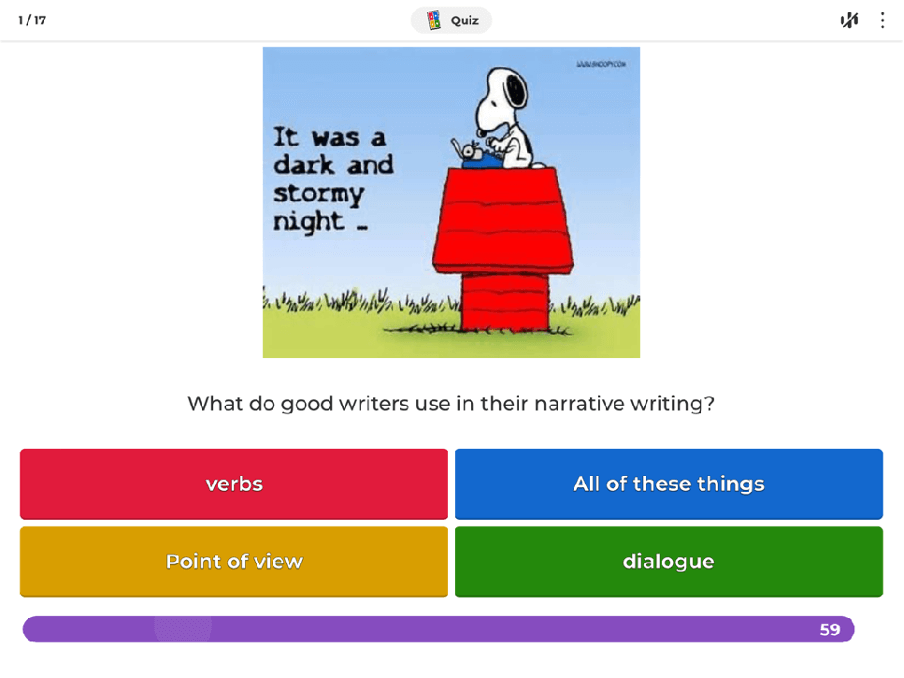 Storytelling with iMovie (Róisín Johnston)
Bring stories to life with iMovie this World Book Day. For the past number of years in our school we always start the year with a project on our local town of Killarney. One of our students' favourite parts of the project is when they choose their favourite local legend and bring the story to life through animations, sound effects and voice overs. This is a great way for students to exercise their own creativity, as well as a low-pressure environment for more reserved students to participate in the activity. For World Book Day you could get students to choose their favourite myth or legend and bring the story to life using iMovie. This is an example of the steps in the project.
Students summarise the main events and sequence the story using a storyboard.
They get creative a draw or make images to accompany each event from the story.
Students then write the movie script and practice reading the script for fluency and accuracy. Students have fun here and enjoy role playing.
Students add their imagery to iMovie by taking photos of their work and adding the images from the iPad's camera roll. They then record their voices and read out the script retelling the story.
Finally, students can get creative and add sound effects to enhance their characters voice or events in the story, captions and even emojis to their movie.
For World Book Day, students could showcase their creations to different year groups.
iPad Accessibility Features (Róisín Johnston)
Take some time this World Book Day to explore the iPads built in accessibility features which can help to improve your students' reading fluency.
Make webpages more readable with Safari Reader.
Have text and pages read allowed by using speak select and speak screen.
Change the font type, size and appearance of text easily to make texts more accessible to everyone.
These are just a few of the tools that have revolutionized the teaching of literacy. With exciting updates on the horizon, the possibilities for student engagement and improvement are limitless!