Overview
As all the brilliant educators we work with know, reflection is an integral part of the learning process, helping us to grow and improve as we progress along the learning journey.
As we prepare to close our doors until January 4th for the Christmas break, the Wriggle team take a look back at the top 10 milestones, memories and moments from a year that none of us will easily forget!
1
The number of Gold Partner Awards granted to Wriggle in 2020. We were thrilled to be allocated the Surface Partner of the Year award at this year's Microsoft Inspire Awards. A huge thank you to Ian Gaughran and the Microsoft Education team for their continued support.
2
The number of Department of Education Framework Tenders awarded to Wriggle Learning. Wriggle are delighted to be listed as the recommended supplier of Surface Go 2 MCore and Apple devices for education by the Department of Education on their public procurement list. More information on the procurement process can be found at Procurement for Schools and Colleges.
3
The number of months it took to build and launch our new educator professional development platform, Wriggle Connect Online Training. With over 600 bitesize videos on everything from iPad, Seesaw and Office 365 Learning tools, along with blended learning exemplars and so much more! We are so proud of the incredible team of over 20 Irish educators who developed these training videos and exemplars to help other Irish educators to enhance teaching and learning with technology in their own schools and colleges.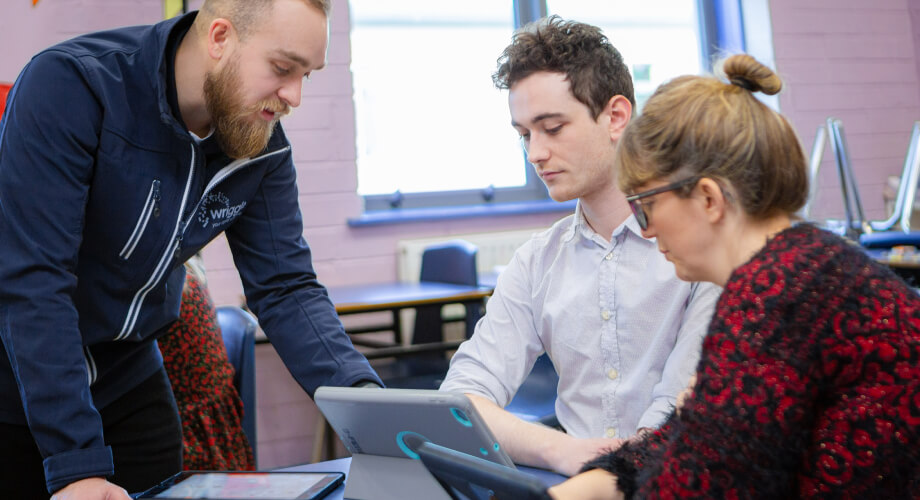 4
The number of social online quizzes Wriggle staff engaged in over lockdown. We are very fortunate to have a great culture and team spirit in Wriggle Learning. So, when the team moved to remote working in March 2020, we made sure to keep up the regular team and company-wide social calls to check in on our colleagues and keep our integral company culture alive.
5
The number of new staff who have started in Wriggle Learning over the past year. A big welcome to Brian and Ciaran, who joined our sales team, Paul and David, who joined our logistics team and Aisling, who joined the Wriggle accounts team in 2020.
6
The number of new Wriggle babies produced in 2020! A huge congrats to Michael on the birth of daughter Molly, Joe on the birth of daughter Fiadh, Janice on the birth of daughter Zoe, Jamie on the birth of daughter Lily, Liz on the birth of son Jamie…and best wishes to Seán whose wife is due their third baby before the new year!
8,000….the number of educators currently using Wriggle Connect to regularly upskill in technology for learning since the training platform launched in August 2020
7
The number of days a week our new online training platform, Wriggle Connect, and our brand new online store, www.wrigglestore.ie, is open!
All of the professional development videos on Wriggle Connect can be accessed 24 hours a day, 7 days a week, so that educators can upskill at their own pace anytime and anywhere they wish.
Wriggle also launched a brand new online store this year. With regular sales and discounts and over 240,000 technology products available 24/7 in the store, check out the Wriggle Store and pick up a bargain over the holidays or do some last-minute Christmas shopping!
8,000….the number of educators currently using Wriggle Connect to regularly upskill in technology for learning since the training platform launched in August 2020.
9
The number of months we've witnessed the schools we work with continue to innovate, upskill and reinvent the learning environment to ensure continuity of teaching and learning throughout the pandemic.
10,000…the number of educators who attended our online training webinars during the first lockdown between March and May 2020. The resilience of educators up and down the country and their dedication to upskilling and finding new ways to make sure learning continued for their students in extremely challenging and unprecedented circumstances was really astounding and cannot be recognised enough.
To all the educators, school leaders, schools and colleges we have had the pleasure of working with over the past year, the Wriggle team would like to wish you all a very well-deserved Christmas break and we look forward to working with you again in the new year.